To be regarded as a 'Safety Goggle' they must provide protection against chemical and other airborne hazards where standard safety glasses cannot. The specifications of each model vary in terms of the protection given but the general principle is a full seal around the eye protecting against splashing, dust and gases. Most safety goggles can also be worn over the top of standard prescription eye glasses.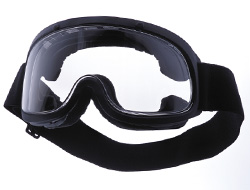 Although not our lightest model, the x500 is extremely versatile. As standard they come with a dual lens, anti-fog coatings and can be worn over small prescription glasses. They are also the most comfortable model and can be worn for long periods.
A low-profile goggle with ultra ventilation. The ballistic lens sits right off the frame to provide maximum anti-mist properties for humid environments. Strap pivots also make them suitable for use with helmets.
The strongest ballistic goggle on the market, the Bolle x1000 incorporates all the advanced features together. Available as single or dual lens with an RX option to fit over the top of existing prescription glasses.
A simple no-thrills safety goggle with adjustable head band, ventilated body and high quality lenses. Ideal for schools and labs as protective eyewear to share and easily replaced.

Safety Standard: EN166 1B
The highly popular Cobra safety glasses have been adapted here to become a full safety goggle. Arms have been replaced with an adjustable strap and the lens sealed with special foam to give full EN166 protection to liquid splashes and droplets making them popular for laboratory and dentistry work. They are highly popular in sports such as skydiving and mountain biking.

Safety Standard: EN166 1B T
These are glasses, however they satisfy the requirements for goggles as they have the strap in place. One of very few safety glasses in the world that meet safety goggle standards. A removable head-band keeps the glasses tightly fitted to face and micro-foam lens edges give full dust protection in addition to making them extremely comfortable. Very popular in the medical field given that normal goggles can be cumbersome.

Safety Standard: EN166 1, 34, BT
Tired of uncomfortable safety goggles? The Atom has the same high specification of the other premium Bolle goggles but with the added benefit of a foam insert similar to what you find on skiing goggles for extra comfort when worn for prolonged periods.
The Blast has the highest specification of all our goggles with a ski-goggle style design giving them a large visible viewing. Available in both ventilated and fully sealed versions with anti-scratch and anti-fog lenses. Blast is one of the only safety goggles to also comply with full European UV protection.

Safety Standard:
Lens: EN166 1BT9 / Frame: EN166 BT9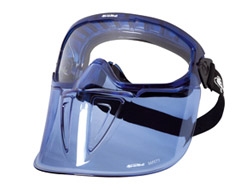 The highly popular Blast safety goggle combines with this removable visor to make an excellent and very versatile full face mask with all the added features of the goggle. Possibly the most popular mask available.

Note: This listing is for the Visor only
The x90 is ultra slim, lightweight and a low-profile pair of safety goggles. They are ventilated and come as standard with both anti-scratch and anti-fog lenses. An adjustable strap uses ball-pivots to allow for an exceptional fit.

Safety Standard: EN166 1B T
Of all our safety goggles the Elite has the widest field-of-vision. With a clean transparent frame, liquid overflow chutes and adjustable straps on a pivot, they are a very popular goggle. Available in both sealed and ventilated models.

Safety Standard: EN166 2F
Possibly the most stylish safety goggle on the market but don't be fooled into thinking it is just a pretty face. The Pilots' specification is outstanding and offers a huge field of vision. Protection from almost all the elements, dust, liquid, molten metal and more.

Safety Standard:
Lens: EN166 1BT9 / Frame: EN166 34BT9
The Fight Fighter is our best safety goggle. Due to the unique Krayton frame material, this model is highly popular in the fire service and anyone working at extreme temperatures. Its unique double lens offers protection to steam, gas, dust, vapours, liquid and molten metals.

Safety Standard: EN166 1 345 BT
An advanced close fitting autoclave goggle with optical quality 1 lenses and ventilated frame. They are fully adjustable, can be worn over a respiratory mask and designed to be especially comfortable when worn for long periods.

Safety Standard: EN166 1B T