Looking for safety glasses that combine style, performance and durability?
Then look no further. Our range of premium safety eyewear are suitable for most of tasks we carry out on a daily basis, be that in the work place, at school or playing sports.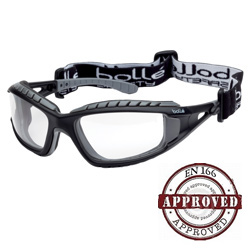 These are glasses, however they satisfy the requirements for goggles as they have the strap in place. One of very few safety glasses in the world that meet safety goggle standards. A removable head-band keeps the glasses tightly fitted to face and micro-foam lens edges give full dust protection in addition to making them extremely comfortable. Very popular in the medical field given that normal goggles can be cumbersome.

Safety Standard: EN166 1, 34, BT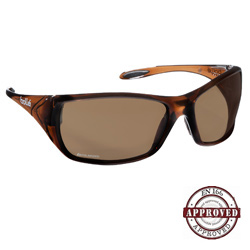 Reassuringly expensive are the Voodoo with polarised lenses and styled from the Bolle leisure division which have then been reverse engineered into safety glasses. This design was originally from the surfing and ski community but has become a popular style all round now.

Safety Standard: EN166 1FT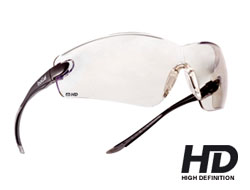 Since the Cobra has also been designed to be adapted into a safety goggle, these glasses use extra strong B-rated lenses and make them highly popular in the medical profession. They are available in every lens type including the new High-Definition, making them the most versatile model we have.

Safety Standard: EN166 1B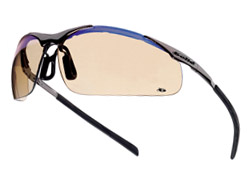 These are the aluminium version of the standard Contour above and yet they still weigh in at only 38g per pair, lighter than many polycarbonate models. Although a little heavier they offer the additional protection that comes with a metallic frame. Available in 3 lens types.

Safety Standard: EN166 1F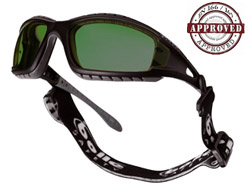 The Tracker is a highly popular pair of safety glasses due to the fact it also satisfies the strict requirements of a safety goggle when used with the removable head strap. It is this versatility which make it equally as popular for welding eye protection and available in all 3 shading levels.

Safety Standard: EN166 1B T / EN169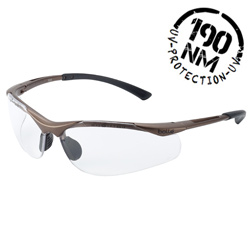 At only 21g the Contour is arguably the lightest pair of safety glasses in the world and yet retains the highest level of quality and exceeds safety standards. They also protect against UV more than almost every other pair of glasses on the market. They are also available in four different lens types for a range of applications.

Safety Standard: EN166 1F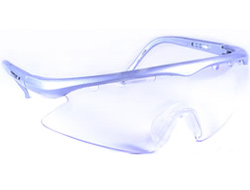 A leading specialist UK manufacturer of sports wear for squash, tennis, badminton and racketball.
Their Titan range of eye protection is available for both adults and juniors so that you can play the racket sport you choose and know you are fully protected. They come in a variety of colours are approved by England Squash and come with a head strap and microfibre pouch as standard.
Safety Standard: BS 7930-1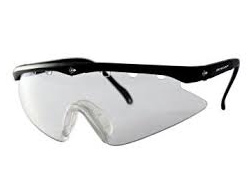 From the well known brand Dunlop comes a one size fits all alternative for Junior sports eye protection.
Approved by the world squash federation and suitable for racketball these versatile safety glasses come with flexible case and strap for added comfort.
Safety Standard: BS 7930-1 and ASTM F803