Medical Safety Glasses - (Autoclave & Clean Room)
Although our whole range of safety eyewear is used within the medical field, we have a number of safety glasses & goggles that are specifically very popular within the industry. Some others (lower down the page) are specifically designed as Autoclave and Clean-room model. We created this section to separate them from the other more generic safety eyewear and allow an easy comparison.

The AutoClave models are specifically designed to withstand numerous cycles at high-temperatures within an autoclave up to 140 Celsius. See these at the bottom of this page.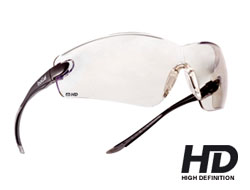 Since the Cobra has also been designed to be adapted into a safety goggle, these glasses use extra strong B-rated lenses and make them highly popular in the medical profession. They are available in every lens type including the new High-Definition, making them the most versatile model we have.

Safety Standard: EN166 1B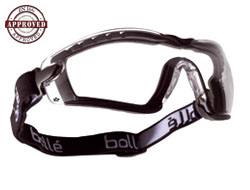 The highly popular Cobra safety glasses have been adapted here to become a full safety goggle. Arms have been replaced with an adjustable strap and the lens sealed with special foam to give full EN166 protection to liquid splashes and droplets making them popular for laboratory and dentistry work. They are highly popular in sports such as skydiving and mountain biking.

Safety Standard: EN166 1B T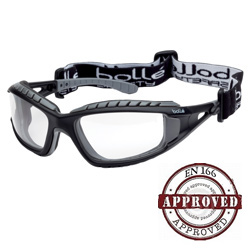 These are glasses, however they satisfy the requirements for goggles as they have the strap in place. One of very few safety glasses in the world that meet safety goggle standards. A removable head-band keeps the glasses tightly fitted to face and micro-foam lens edges give full dust protection in addition to making them extremely comfortable. Very popular in the medical field given that normal goggles can be cumbersome.

Safety Standard: EN166 1, 34, BT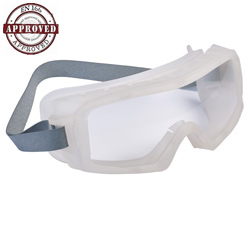 The Coverall is our entry level autoclave model designed to fit comfortably over the top of existing prescription glasses. It uses indirect ventilation and EN166 grade 3/4 frames for maximum protection against liquids and dust.

Safety Standard: EN166 1F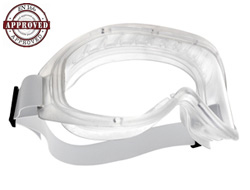 An advanced close fitting autoclave goggle with optical quality 1 lenses and ventilated frame. They are fully adjustable, can be worn over a respiratory mask and designed to be especially comfortable when worn for long periods.

Safety Standard: EN166 3 4 1B T