Welding Glasses & Goggles
All types of welding pose serious risks to the eyes. Safety welding glasses tend to only be used for gas welding. In each model we offer various shades from 2 through to 6. For more information and advice choosing the correct shade, please see our Welding Advice Section before making your lens choice.
For electric arc welding such as Tig, Stick and Mig, the light intensities can be much higher and a full face shield is required. Unless you are a professional welder DO NOT use standard welding safety glasses for arc welding.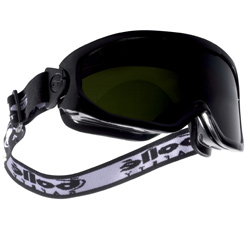 Blast Welding Shade 5 goggles. Can be worn over existing spectacles. For Gas welding.
Safety Standard:
Lens: EN172 1B9 / Frame: EN166 B9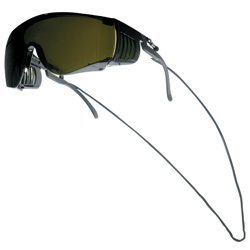 The Squale is regarded as the best and most stylish visitor cover spec on the market. Now in the welding shade 5 lens with anti-scratch properties. Ideal for customers and clients you want to impress, they are designed to fit to every face and over 99% of prescription eye glasses.

Safety Standard: EN166 / 172 1 S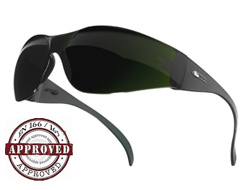 An entry level model with a wrap-around design but without the special features of the more advanced styles such as anti-scratch lenses.

Safety Standard: EN166 1F / EN169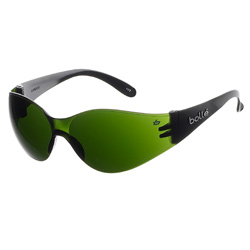 A very close fitting and light-weight pair of welding glasses with a full wrap-around design. Weighing it at a mere 28g they are the lightest pair of EN169 welding approved glasses on the market and include anti-scratch lens properties.

Safety Standard: EN166 1F / EN169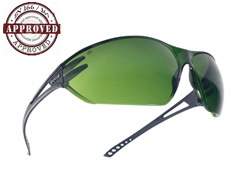 The Slam is out ultra-enveloping welding model giving both a large viewing area and wrap around design. Built with T rated lenses giving protection from extreme temperature impacts. Each pair comes with an adjustable next cord and is available in three welding shades.

Safety Standard: EN166 1F T / EN169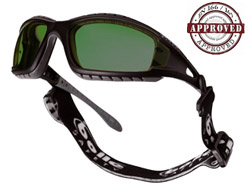 The Tracker is a highly popular pair of safety glasses due to the fact it also satisfies the strict requirements of a safety goggle when used with the removable head strap. It is this versatility which make it equally as popular for welding eye protection and available in all 3 shading levels.

Safety Standard: EN166 1B T / EN169